Our digital PR campaigns build links and social shares to improve search engine visibility and drive awareness. Unlike other digital PR agencies, our campaigns are also designed to build brand awareness and reputation. We underpin this with technical search counsel to ensure that websites are planned and built to convert traffic. We're the award-winning midsized PR firm that has been recognised as the current PR agency of the year. We specialise in digital PR services that are designed to enhance search engine visibility, build brand awareness, and drive online reputation. Our approach combines strategic link building and social sharing to boost your online presence, while providing technical search counsel to optimise your website for maximum conversion.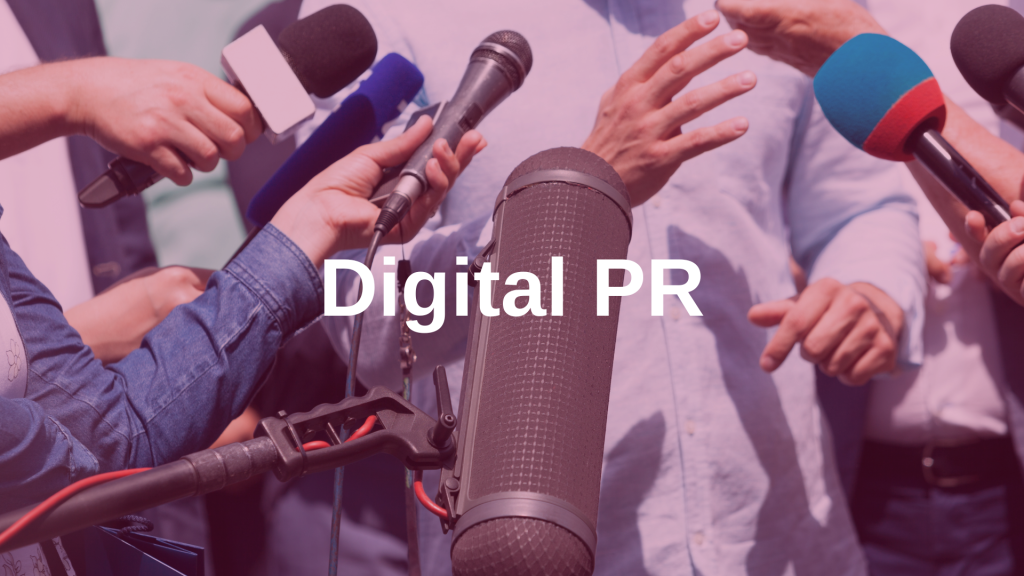 We defined what digital PR is
We've been doing what they now call digital PR for 20 years. We helped shape and define the digital PR industry since the very first Google Penguin update created interest in using PR for SEO purposes and to help make sense of it all we wrote this helpful post to define what Digital PR is and how it can be measured.
Digital PR has come a long way since the Google Penguin update. Businesses now understand how digital PR can be used to increase their visibility, build relationships and boost search engine rankings. It is an effective tool for companies of all sizes as it doesn't require large budgets or resources and can be handled in-house or outsourced to digital PR professionals.
At its core digital PR is about creating a digital presence for your business and building relationships with key journalists who can help to promote and share your content – and yes, earn important inbound links too. It is also about using the latest digital and SEO tools and techniques to create meaningful conversations and engagement with potential customers.
Digital PR tactics can include digital newsroom creation, newsjacking, surveys, digital press releases, influencer outreach, digital events and digital media monitoring. All of which can be used to increase your SEO visibility as well as creating buzz around your brand.
Ultimately links are still an important ranking factor but digital PR is also about connecting with potential customers online and driving them to take action. It's an important element of digital marketing that should not be overlooked by any business looking to grow their online presence.
Using Media Relations to Earn Links via Digital PR
Digital PR is now part of the established public relations toolkit. Any business that trades online knows that links from press coverage help to drive search engine visibility and sales. PR Agency One has been at the forefront of digital PR for over 10 years. Our teams create engaging, page ready stories and onsite content which journalist and bloggers want to write about.
Our teams know where to place PR content with the maximum impact for your brand. We avoid nofollow links, affiliate links and only go after the most authoritative and thematically relevant editorial websites possible . We use tools such as SEMRush, Ahrefs, Majestic and Moz to assess the quality of these links and spend our time building relationships with journalists on your behalf.
PR Agency One and Auto Trader win Best Use of PR at the EU and UK Search Awards. But don't just take our word for it, we've also won Best use of PR at the UK Search Awards for our work with Auto Trader. Read the case study here.
There is more to Digital PR than links
In today's competitive digital landscape, it's essential to recognise that digital PR goes beyond mere link acquisition. While earning valuable links is crucial for improving search engine rankings, a comprehensive digital PR strategy encompasses much more.
At PR Agency One, we understand that the true value of digital PR lies in its ability to deliver tangible benefits beyond links. Our expert team will craft and execute a strategy that not only secures high-quality links but also generates conversions, third-party endorsements, and enhances your brand's reputation.
Links are the biggest ranking factor, but there is of course more value to our OR than just hyperlinks. By leveraging digital PR, you can expect a significant increase in website traffic and conversions through branded search terms. This means that not only will your website receive more visitors, but these visitors will be more likely to take action, resulting in higher conversion rates. Whether the traffic comes from referrals, direct searches, or even your branded Google AdWords campaigns, our digital PR approach ensures that your brand is visible, impactful, and ultimately drives meaningful results.
We believe that digital PR is not just about increasing search engine visibility; it's about creating a strong and positive brand image. Through our strategic campaigns, we will help establish your brand as a thought leader, build trust and credibility among your target audience, and foster long-term relationships. By positioning your brand in the right media outlets, we ensure that your message reaches the right audience, driving brand recognition and loyalty.
Our integrated approach combines digital PR with industry-standard SEO tools, techniques, and data analysis. By leveraging Google Analytics and other valuable insights, we gain a deep understanding of your audience, their behaviours, and preferences. This knowledge allows us to tailor our campaigns to resonate with your target market, ensuring maximum engagement and conversion opportunities.
All Public Relations is digital PR now
In the modern age of PR, most public relations practitioners are now practicing digital PR. The question is whether most PR agencies know what they are doing and how to measure the outcomes. We'd argue that most of the industry is way behind in terms of their approach to digital PR.
Digital PR is media relations designed to secure online press coverage in media and blogs. The objective to drive brand awareness and reputation, but also to earn links and drive meaningful traffic to websites that convert into sale. This means creative media relations campaigns from time served PR practitioners, but delivered by people who know how online media is benefits clients and drives commercial outcomes. Digital PR is more than links and analytics.
You are in safe hands with our Digital PR experts
PR Agency One is known for award winning, creative, strategic digital PR campaigns that make a difference. Don't take our word for it. Read our case studies on for sports retailer Decathlon, Rada and online GP service Push Doctor. Our teams know as much about media relations as they do about links. They are at home placing coverage in the national media and with their nose in Google analytics.
If you want to find out more about our digital PR approach why not read one of our latest blog posts: what is digital PR and how do we measure success?
Digital PR, SEO and the power of Google for brands
The biggest media influence on brand and reputation is not the BBC, The Sun or Radio 4 – it is Google. That is why search engines matter.
We use digital PR alongside industry standard SEO tools and techniques, Google Analytics and other types of data to inform our campaigns and content marketing strategies, and to increase your search engine visibility.
We also understand how to build communities and get your message across by turning digital PR campaigns into fully integrated, creative campaigns. They become more than just link drivers, but a core part of your marketing effort.
Call now on: