Claro Money is the UK's first digital financial coaching app, offering affordable and accessible qualified financial guidance to everyone in the UK. The fintech firm wanted us – its retained UK PR agency – to build top of funnel consumer awareness, consideration of its product among its target demographic, and a greater level of customer acquisition ahead of launching its app on the Apple iOS app store.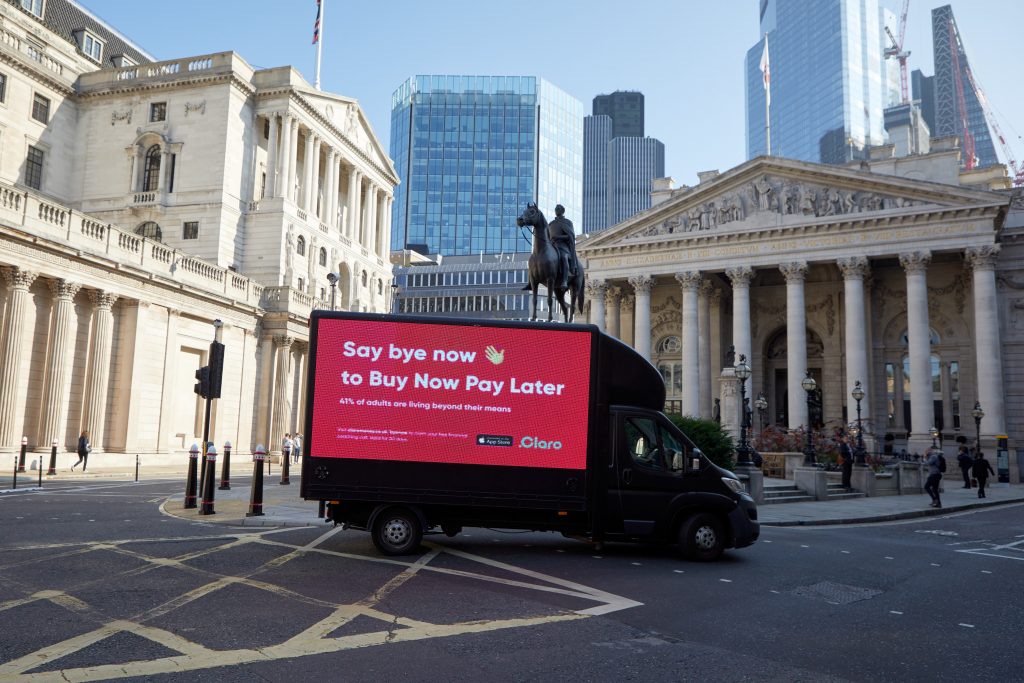 What we did
Our creative insight for this campaign was based on a research-led piece of content for Claro Money in partnership with Mental Health UK and The Money Charity which highlighted the link between poor money management and mental health issues. We chose to create a new amplification of this Mental Health campaign which would take the findings of its research and bring them to life beyond a webpage, and to the attention of the Great British public.
Our communications objectives for the campaign included:
establishing Claro Money as a thought leader on financial planning for the under 45s,
differentiating the brand in a congested market,
harnessing emotional triggers
educating consumers on the pitfalls of unregulated credit.
The activation was attention-grabbing and helped Claro Money campaign on its mission to support everyone develop a smart money mindset and a healthier relationship with money. It also brought the Government's and financial service providers' attentions to the growing issue of buy now pay later's (BNPL) negative impacts to influence change.
We developed a campaign of Out of Home (OOH) paid media placements that would use statistics from its research along with a clever slogan to capture the attention of a wide audience of people in the capital – consumers, corporates, public sector and BNPL providers.
Using a play on the popular pop culture colloquialism 'bye bye now', which, according to Urban Dictionary is the used when a lengthened conversation is abruptly ended after wasting time, we created a stride-stopping 'Bye Now to Buy Now Pay Later' slogan.
This catchphrase was plastered across more then 20 electronic billboards in London, from Oxford Street to London Bridge, Canary Wharf and Westminster as well as a billboard van which visited 20 locations including the Bank of England and Klarna and ClearPay's head offices. The billboards sites in famous London locations were designed using Claro's brand colours which already alert the attention of passing eyes. With the addition of a waving hand emoji the simple designs caused some serious conversations.
This campaign of billboard placements supported efforts by Claro's own personal finance experts to reduce the public's reliance on buy now pay later credit and focus on developing healthy financial habits instead. As well as the addition of a gift of 1,000 free one-to-one personal finance coaching calls, this was enough to create an accompanying press release which was distributed to media as the billboards went live in order to secured earned media coverage for the tactic.
Integrated PR campaign coverage highlights
Immediately the campaign was covered by the Independent and Evening Standard as billboards appeared across the City of London. This was followed by coverage in lifestyle and consumer titles, tech trade media and financial trade media, resulting in blanket coverage of the playful PR stunt. The integrated PR effort was also covered by Campaign, a leading marketing title, highlighting it as an example of good financial PR and marketing practice.
Integrated PR campaign results
To date we have secured more than 100 pieces of coverage for Claro Money's Mental Health Project campaign, with pieces appearing in the Metro.co.uk, Guardian and FT Adviser. Beyond purely PR coverage our integrated PR campaign has generated conversation among consumer and corporates on how to better educate consumers on the risks of BNPL, and how legislation can be shaped to protect the public in future.
The campaign also delivered:
38,000 sign-ups to app waiting list
64 pieces of coverage for the mental health report
31 links to website the website
Average domain authority of links: 39/100
Coverage with 100% brand mention inclusion
100% of coverage included at least one key message
This campaign ran in parallel with many other ongoing outputs, including a consumer press office, newsjacking and reactive commentary, and corporate profiling workstreams.
To find out more about how we can create cunning and campaign integrated PR campaigns, get in touch using our contact page, or call us direct.