Consumer facing companies need to build a brand, create loyalty and drive sales. Creative consumer PR is the answer.
We work tirelessly to generate stand-out awareness for the consumer brands we work with by creating engaging, original brand stories and using consumer insight to make sure your key messages are reaching the right audience.
Our consumer PR team is has decades of experiences in creating strategy and delivering award-winning PR, digital and social media campaigns for some of the country's biggest brands.
These campaigns are brought to life with creative activations, social media, stunts and partnerships with celebrities and influencers.  Everything is underpinned with decade's of media relations experience.
Decathlon, Auto Trader, RADA, Serenata Flowers and AppliancesDirect all chose us. Why don't you join the family?
Award-winning Consumer PR
Our B2C experience spans integrated communication campaigns, product launches, product placement, headline-grabbing stunts, content creation, copywriting, managing celebrity talent and sponsorship, event management, experiential and purpose driven campaigns.
Our approach is award winning for our approach to creativity, content and integration of our creativity with digital.
Creativity and strategy go hand-in-hand to generate endorsements from influential journalists, powerful social media accounts and your consumers that help to drive sales.
And we prove the impact of our B2C campaigns.
Our unique OneEval measurement tool applies brand, reputation and e-commerce evaluation techniques  to track the impact of our campaigns to cost per customer acquisition.
Watch our award winning PR agency showreel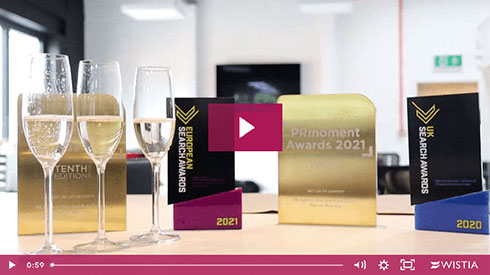 Consumer PR Product launches and event management
There are many ways to engage with your audience.
Brands that come face-to-face with the people who matter most to them forge a greater understanding of their products and services, and the values they stand for, creating meaningful engagement with their target audiences.
We create product launches, experiential media events, roadshows and exhibitions to form strong connections between brands and their audiences.
Using insight to create better experiences
Before starting our search for killer creative ideas, we design a strategy that is forged in insight, by stepping into the world that the client and its consumers live in.
By getting under the skin of its history, culture, products or services, and of course, its competitors, we are able to really understand the commercial objectives driving the experience.
We work with renowned research agencies, analysts and journalists to unearth insights that help shape strategic and creative thinking and ensure our experiences achieve measurable commercial outcomes.
Our consumer PR offering includes:
PR brief development and refinement of KPIs
PR consultancy to develop strategic approach
Development of a 12 month PR campaign
Campaign scoping and detailed monthly planners
Delivery of PR campaigns by a a well trained team of PR professionals
Monthly planning meeting with agendas sent out 48 hours in advance and contact reports sent 48 hours afterwards
Quarterly PR measurement and account reviews
Annual campaign tracking
We specialise in a broad range of consumer sectors including: