We have a proven B2B PR track record in supporting campaigns across all major industry sectors, for firms ranging from ambitious 'fast growth' start-up businesses through to FT-SE 250 businesses.
We focus on supporting our clients' commercial objectives positively impacting their bottom line, and ensuring we deliver a measurable return on investment.
Our approach to B2B PR puts the impact of your online reputation first, and looks at the link between reputation and ROI.
Our B2B public relations campaigns use a variety of tactics to communicate and amplify the message, driving customers towards our clients' websites, where they can make informed decisions.
But don't just take our word for it, we work with some of the UK's biggest brands, including Decathlon, KPMG and Perkbox.
B2B PR consultancy and content
Our services include consultancy on brand and reputation building, IPOs and M&A, crisis communication, brand activations and product launches, employee engagement, corporate social responsibility, roundtable events and digital roundtables, thought leadership campaigns and media relations.
Our intelligent content is designed to engage and forge long-term relationships with customers, to turn campaigns into lead generators.
Our team includes experienced former journalists and PR consultants with direct experience of working for leading companies within the markets in which we operate.
They are experienced in delivering campaigns that drive not only media engagement, but also achieve real cut-through with investors, analysts, customers, market influencers and trade bodies.
PR Agency One has specialist B2B PR knowledge of sectors including:
Watch our showreel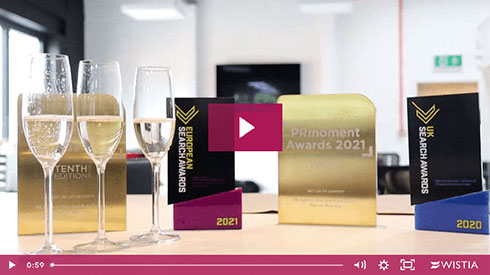 B2B lead generation
A central part PR Agency One's offering is using PR for lead generation.  Classically PR has been used to generate leads by building awareness of an offering, or by using thought leadership to highlight opportunities or solutions to well-known business problems.
The third way is to use B2B PR to build online visibility in search engines. We use digital PR and SEO PR techniques to target the most authoritative sites that can provide Google with the signals it needs to recognise the capabilities of your business, rewarding an organisation with higher visibility for commercially relevant search terms. We use the latest online marketing software to ensure your B2B PR campaign is earning the maximum amount links in press coverage to boost search visibility. And all our consultants are trained in Google Analytics and can attribute these outcomes to website traffic and website goals and phone calls.
Reputation measurement for B2B
We have a world class reputation tracking team that develops bespoke research methodology for you and your business to benchmark and track its reputation. Reputation is a complex and intangible concept to measure but we have devised a methodology in partnership with leading academics and industry experts.
All our measurement is built upon the AMEC framework and goes further than its minimum requirements to provide a thorough and well rounded level of insight for both communications teams and the c-suite.
Want to find out more about our B2B PR offering? Call us on: