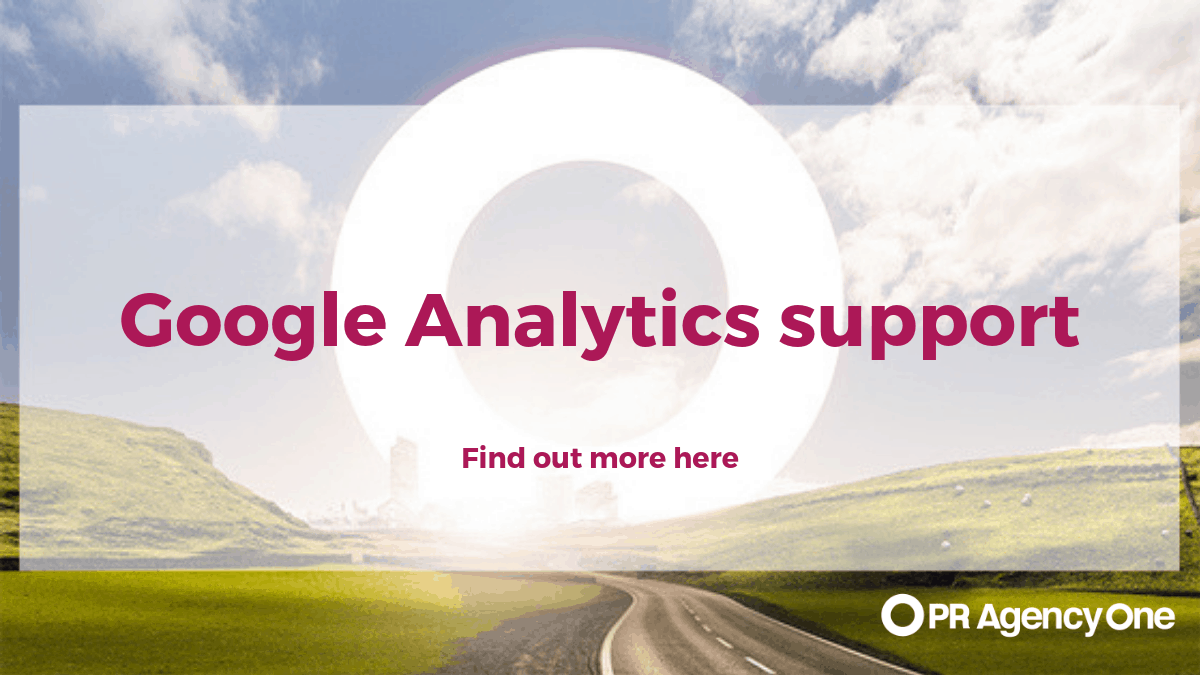 Chances are you already run Google Analytics. Most businesses do. And why wouldn't you? It's fantastic and it's free. From detailed information on visitors, to session volumes, to bounce rates, page speeds, interactions, organic SERP performance and conversions; Analytics offers an almost infinite amount of insight. A clear, vivid and essential window on your website performance. It's also a key component in our suite of PR measurement tools.
Some of our PR clients want to supplement our OneEval Commercial reporting, with their own reporting and a general understanding of how Google Analytics works. This might be to a beginner or advanced standard.
But Google Analytics is only as insightful as its set up is correct. And it's only genuinely useful if it's run with expertise.
Google Analytics Set-Up
Much of our Google Analytics support, certainly at the start of a campaign, involves working with your marketing team or SEO specialists to make sure that all the essentials are in place at the outset. The analytics set up you need to capture the right information in the right way.
Beginners often fall into the same traps, such as blunders with tracking codes or goal setting, and more advanced businesses might struggle with content groupings or data labelling. Either way, making sure your analytics is set up right matters.
Google Analytics for Granular Understanding
For example, some businesses use payment processing or a booking engine on a separate domain, or they may use plugins like Eventbrite where the purchase process is offsite. Without cross-domain tracking when a visitor goes to make a payment and returns to your site from they look like a new visitor.
When you're spending big money on PR, Adwords, Facebook advertising or a paid partnership, of course, you want a detailed and accurate understanding of your customer journey. The last thing you want is for traffic to seem like it's disappearing only to reappear as referral traffic or self-referred traffic.

We work hard with our clients to define the right KPIs. We work hard to make sure that your Analytics is properly set up to yield all the data you need to accurately measure those KPIs. The right filters, the right tags, the right goals. Your PR performance relies on it.
Google Analytics Troubleshooting
As campaigns evolve and as clients scale so too does our Analytics support.
We work closely alongside your SEO partners and in-house marketing teams to troubleshoot, enhance and optimise analytics setups. To squeeze every last ounce of insight and value from your online presence.
For example deploying Custom Dimensions to track non-standard behaviours, enhanced e-commerce tracking or re-categorising products, adding brand names, departments or page details for an even clearer understanding of exactly what's going on.
While there are plenty of great marketing companies out there, some excellent PR agencies and plenty of Analytics experts there'll be little cross-discipline expertise.
What we offer, and it's an important contributory factor in our award wins, is unique.
A unique blend of deep business, technical and marketing expertise as one. PR Agency One.
Find out how Google Analytics Support can help your business.
Call now on: