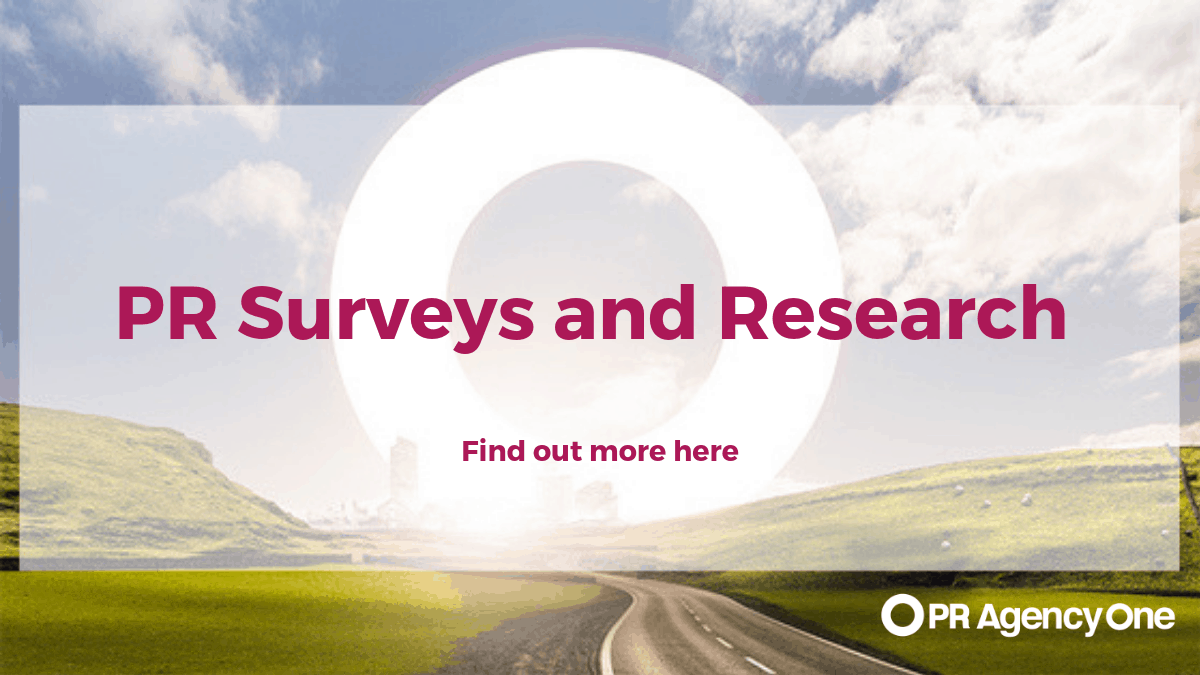 Our PR surveys and research allow us the essential opportunity to go out and talk to the people that matter. Be that audience a broad nationally representative cross-section of consumers, or a niche group where we can target specific professions or age groups, users of a certain product or people of certain professions. It all depends on the audience best able to give us the insight we need.
One of the most common uses of PR surveys and research is to inform journalists and customers about a company's products, services, or initiatives. For example, a PR survey can ask questions about customer satisfaction with a particular product or gauge interest in a new service the company has recently launched. This data can then be used to help craft targeted messaging for press coverage, as well as tailored messages for customers. By understanding their audiences' needs and wants, companies can effectively promote their products or services to both journalists and customers.

The other main use for PR surveys and research is to gain insights into market trends that can help inform strategic media relations decisions. Companies can analyse data from PR surveys to understand what topics are resonating with the public and uncover newsworthy stories to pitch to journalists.
Knowing the types of stories that people are interested in hearing will help target press coverage more effectively and ensure that companies are reaching the right audiences with their messaging. Additionally, understanding current market trends allows companies to stay ahead of their competition by delivering timely information through press releases and other media outlets.
The Measured Benefits of PR Research
For example, we undertook extensive research for retail finance and fintech specialist Duologi to help them expand their offering to non-retail vertical sectors. A consumer and B2B research programme to compile: Finding the Right Balance – a report on the future of consumer credit lending that included imaginative headlines such as Lack of credit options costing UK economy £20bn and lead to the creation of staff training packs to offer advice and training to employees on how best to upsell POS finance in an appropriate way.
Distributed at trade shows, including Ecommerce Expo, covered in 124 articles include features in Forbes, Econsultancy and Internet Retailing and earning 47 links with average domain authority of 43/100 the research and report played a major part in series of significant reputational and commercial wins including:

The successful securing of funding from Paragon
2,000% increase in sales leads from non-vertical sectors
On track to achieve £40m lending in year one
YOY organic traffic increased by 364%
Leads +100% in phone calls | +340% contact forms fills YOY
Said Duologi Marketing Manager John Wark, "PR Agency One is doing a fantastic job in helping us to spread the word about our disruptive fintech solutions in our key sectors. Their measurement is outstanding."

PR Research That Drive PR Campaigns and Grows Business
Here's another great example of the power of PR surveys and research.
We run large consumer research exercises such as Decathlon's Activity Index.
The most recent, The Decathlon Activity Index 2019, a survey of more than 7,600 UK adults, tracks rates of participation in sport and other physical activities across the year, through a national monthly survey. This gives us annual statistics, along with monthly timeline data, to allow us to break down participation levels by frequency, age, gender, location and sport.

It's an essential insight that we've used to create a bespoke Data Studio report to track and present and inform coverage and have integrated as an 'interactive Activity Index' to the Decathlon site.

PR Surveys and Research That Drives Reputational And Commercial Results
Research powered PR that, as with Duologi, drives powerful reputational and commercial benefits:
Brand awareness exceeding Blacks and Millets
315 pieces of coverage
A combined media reach of 2.5 billion
Store revenue leapt by 20% quarter on quarter and 70% year on year
A 25% leap in year on year organic traffic revenue
Search engine visibility ahead of JDSports.co.uk and GoOutdoors.co.uk
PR Surveys and Research That Sets The National News And Contents Agenda
Our PR surveys can then be used to set the national news agenda and are brought to life in various activations of content marketing, including video and animation, infographics, reports, quizzes, vox pops, social media and radio campaigns.
Omnichannel PR Research
And our PR research transcends the classical media channels of TV, radio, newspaper, and online coverage because our data is designed with the digital age front of mind. We enable brand storytelling with data for earned, paid, shared and owned channels.
In short, we can access whatever audience you need. If there's an audience out there with campaign relevant information we'll find them, we'll ask the right questions and we'll turn their answers into the most meaningful of data. Data that we'll use to shape your campaigns in the most effective of ways.
Meaningful PR Research and Surveys
Our research is provided in user-friendly Excel tables, and categorised by industry-standard age, gender and regional splits.
The data is aligned with the MRS Code of Conduct, based on the ESOMAR principles.
Want to know more about how PR surveys and research can help your PR? Looking for real-life examples and the ways we've made that insight actionable? The results of those actions?
Talk to us now on: