Brief and objectives

One4all is the UK's multi-retailer gift card, and can be spent in 21,000 stores nationwide including John Lewis, Topshop, Debenhams, Argos, B&Q and more.
PR Agency One was tasked with enhancing the website's search visibility purely through PR. PR that would not only establish high quality inbound links, but drive online sales of the multi-store gift cards and also encourage shoppers to purchase through the Post Office network.
The objectives for PR activity were:
To raise the awareness that the One4all multi-store gift card is on sale at local Post Offices and online at: one4allgiftcard.co.uk.
To increase multi-store gift card sales year on year by 20%.
To highlight the choice of retailers available with a One4All Gift Card. There are 1000+ retail partners across the UK and Ireland offering 21,000 retail outlets, so it is important that people clearly understand the huge range of spending opportunities.
To show Post Offices that One4all is strongly supporting their retail listing
Brand awareness and long term SEO benefits.
Research and planning
We found that online sales as measured in Google Analytics correlated with sales in retail outlets. We therefore agreed to use Google analytics as a way to measure the performance of the PR campaign.
One4all's key target audience is females, aged 25 – 44. Large proportions are mums. Men in the same age category are also a key audience. So all campaign ideas were targeted to resonate with this audience.
Our Google Analytics data showed us when key stories worked and when they didn't allowing us to hone the message of PR stories and target the PR activity.
 Strategy and tactics 
To achieve these objectives, PR Agency One's strategy was to deliver key messages across traditional and online media using PR storytelling, media relations, modern SEO PR principles and social media. The purpose? To secure press coverage and links from media websites to strengthen the site's visibility within search engines. .
Campaign concepts were themed on and planned around key retail and gifting periods, events and themes including;
Valentine's Day
Mother's Day
Easter
Birthdays
Weddings
Thank You Teacher
Charity gifting (e.g. Children in Need, Text Santa)
Christmas
These campaign concepts were then executed across multiple channels, including:-
News Generation Releases
Product Placement Media Relations
The One4all Facebook account
The One4all Twitter account
The One4all blog
Though not as digitally focused as many of our campaigns, there was an important digital element to it. Namely, the way we were able to overlay digital metrics upon offline metric to evidence the positive impact of our work on sales taking place in Post Offices.
 Implementation 
From June 2014 – May 2015, creative angles were implemented each month to link back to key One4all messages and reinforce that One4all were the gift card of choice and a safe gifting option.
The basic monthly structure included:
A mainstream media story targeting coverage and links from national news, lifestyle and consumer media.
A syndicated news story targeting major regional media
A digital news release targeting bloggers, online news media and social media news feeds and included radio days
Media promotions through traditional and digital media
Onsite content for the One4all website and social media, used to encourage links
Managing engagement with these campaigns through social media channels.
All content repurposed for email marketing, promo and above the line creative
 Measurement and evaluation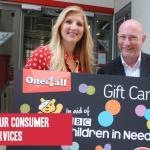 Measuring PR has always been controversial. Most clients have at some point questioned what PR has delivered and this is because the majority of PR agencies are appalling at measurement and evaluation.
Not here.
At PR Agency One we apply our proprietary, award winning PR, reputation and lead generation measurement methodology, OneEval, to share a crystal clear insight on campaign performance. It's unique.
OneEval is our award winning in-house evaluation system, designed to show the tangible commercial impact of our work.  Using a combination of Search Metrics, MajesticSEO, Google Analytics and Ecommerce Tracking (all of which are used widely throughout the SEO industry to evaluate both website performance and sales, and websites' visibility within search engines) we were able to demonstrate how practically every pound spent on PR was used to generate sales.
The website sales data was also overlaid with the Post Office's physical sales data, to demonstrate the correlation between the two.
June 2014 – June 2015 Results
98 pieces of coverage
39 pieces of national coverage
19 high value SEO links in press coverage to the One4all website
There has been a combined social media growth (Facebook and Twitter) of 34%  – from 19,535 at the beginning of June 2014 to 26, 233 at the end of May 2015.
PR was responsible for:
Messages about the availability of One4all Giftcards in Post Office was included in over 60% of all coverage
Visits to the One4all website in 2014 were up 50.2% from over 800,000 to 1,211,996.
Organic search traffic is up by 47% year on year
Revenue generated from organic visits to the One4all website was up almost 124%,
Overall, sales made online at One4all.co.uk were up 163% and the average order value was up by 10%
Breaking that down:
Overall YOY sales for the key retail trading period, Christmas, up over 30%
Sales in Post Offices up 35%
All campaign outcomes were annotated in Google Analytics and linked to sales (See supporting documentation)
Press coverage saw huge spikes in sales when coverage appeared. Links saw month on month increase in search visibility according to search metrics (see supporting content)