Set in the heart of London, PR Agency One's Mayfair office provides its clients access to one of the world's biggest centres for public relations and media. The agency delivers consumer and B2B /Corporate PR to some of the world's biggest and most ambitious brands.
Integrated. Strategic. Creative. Award winning. But, above all, fully accountable with best-in-class measurement.
A multi-award winning, PR Week Top 150 agency, PR Agency One has a worldwide reputation for creativity, strategy and measurable excellence. The consultancy's team enables its clients to access the London-based media and marketing industry, along with the business infrastructure that has grown up around it.
Be it to access to the financial centre of City of London or more latterly the cluster of technology businesses that are founded within the M25, London is a great place to do business and deliver a PR campaign. Join us.
Our London Address: 4 Old Park Ln, London W1K 1QW
Phone Number: 020 3092 1446
Why choose PR Agency One's team for PR campaigns in London and the UK?
London has for a long time been a major global communications centre which is unrivalled with every major media outlet in the world having a footprint in the capital. Such is its dominance that there is a London biase to media in the UK and having a press office or marketing team in the capital allows businesses and brands to create a platform on which to market their proposition, build a reputation and create a distinct brand.
But why stop at just London and the UK? Via our One Network, PR Agency One can operate in over 40 different countries worldwide. We have the timezone to use "follow the sun" methodology and project manage PR campaigns all over the world. As London wakes up, our timezone allows us to project manage teams in Asia, while in the afternoon The US rises, allowing meetings and work to take place with our colleagues in New York and San Francisco.
Watch our show reel to find out how we put London at the heart of our communications vision: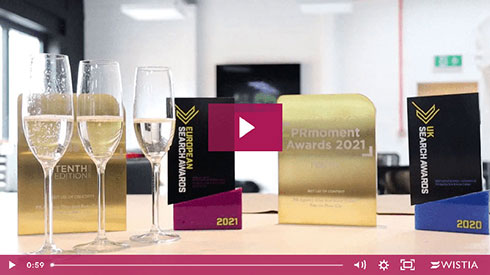 As a team of London based PR consultants, we pride ourselves on being the best
Our teams cover consumer PR and B2B/corporate . We have specialisms in retail, FMCG, tech, health, financial services, education and skills and many, many more.
We promise we are as modest as we can be about our successes, but it is no 'humble brag' to say that when it comes to industry accolades, we have won them all. But more importantly, so have our clients. In the last twelve months we have won 5 CIPR Excellence Awards, Three PRCA Awards, Two PR Moment Awards, the UK Search Awards, the EU Search Awards, the Drum Search Awards, AMEC Awards and a number of other gongs too.
Our people are what makes us stand out and in London our talented team know what it takes to make brave, engaging and thoughtful communications campaigns that really make a difference. We use our proprietary evaluation systems OneEval to measure the impact of what we do and have been thought leaders in the space with our leadership team also holding positions on the board of directors at AMEC and having written thought leadership reports for the PRCA Innovation Group on new developments such as Share of Search.
To find out more about our PR consultancy services in London call us on 020 3092 1446, or fill out the form below.