Stories influence the way consumers, employees, investors and policymakers think and act. At this PR company we target national and international media to shape reputation, build brands and increase online visibility.
Our approach to PR creates intelligent content that builds and protects brand profile and powers online visibility.
Imaginative, strategic and measurable PR
If you want classical PR nouse and time-served media relations, which delivered with an eye for measurable success then you are in the right place. Our B2B/ Corporate and Consumer teams are award winning. They have big ideas, provide strategic input but also know about objective setting and how to measure campaigns with our AMEC-aligned PR measurement tool called OneEval.
We don't forget the specialisms either. Tech PR is a large part of our turnover where we work with fintech's through to some of the world's largest consumer brands. Healthcare is a particular specialism, as is retail PR too. Niche campaigns are our forte alongside the mass market
Strategic campaigns, stunts and thought leadership
Our strategic campaigns encompass everything from imaginative stunts to rigorously-researched thought leadership reports that enable clients to lead the debate on the big issues in their sectors.
Stunts and creative media relations help deliver your message and increase brand awareness, while also deliver wider SEO PR benefits.
Strategic campaigns and thought leadership drive media coverage and search visibility, and are powerful tools for building employer brand, business development, and social media.
Alongside big campaigns, we run a hardworking newsroom that creates opportunities for proactive and reactive storytelling, every day.
Our team comprises a mix of time served PR practitioners, former journalists, the smartest graduates and online marketing experts. All accounts are headed up by a senior director, an account director and supported by account executives and and account managers.
Watch our agency show reel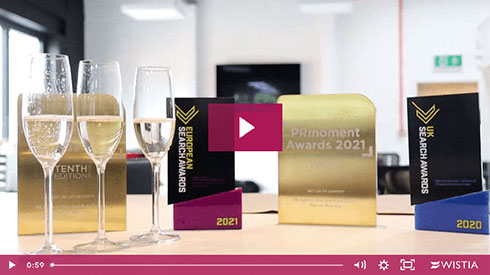 National and international PR with a global reputation
Our digital media experts align all activity to ensure that reputation, brand awareness and online marketing are aligned and work as one.
We are based in Manchester and London but we operate with a national and international footprint, supporting brands all over the world.
Our approach to PR is standardised to ensure that your experience of our agency and its results is nothing but stellar.
We will always:
provide a fully timed and costed proposal before starting work – no detail is spared
work closely with your C-suite to make sure your commercial and communication objectives are aligned
translate those objectives into KPIs which can be measured on a monthly and quarterly basis
provide you with agendas 48 hours before a client meeting and a contact report 48 hours after
deliver weekly status reports and conference calls if requested, to allow progress to be tracked
focus on hard work and results alongside the finest strategic counsel
provide you with actionable insights that go beyond just PR measurement
Crisis Management: Protecting Your Reputation in the Face of Challenges
In today's world, a company's reputation can be easily tarnished by a negative news story or an unexpected event. Therefore, crisis management is an essential part of public relations. A good PR company will help clients develop a crisis management plan that outlines the steps to be taken in case of an emergency. At this UK PR company, we have years of experience in handling crises and managing reputation in the face of challenges.
Our crisis management approach involves proactive planning, monitoring, and swift response to mitigate the impact of negative publicity. We have a dedicated crisis team that works closely with clients to develop a customised crisis management plan, conduct risk assessments, and identify potential crisis scenarios.
We provide media training to key spokespeople and conduct simulations to prepare for a crisis. We also have a 24/7 media monitoring system to keep track of news and social media trends. Our crisis management team is always on standby to respond quickly to any emerging crisis and protect our clients' reputation.
Social Media: Maximising Online Visibility and Engagement
In today's digital age, social media is a powerful tool for building brand awareness and engaging with target audiences. A good PR company will have a strong social media strategy that aligns with the overall PR objectives. At this UK PR company, we have a dedicated social media team that specialises in maximising online visibility and engagement for our clients.
Our social media strategy involves developing compelling content that resonates with the target audience, using relevant hashtags and keywords to increase discoverability, and leveraging paid social media advertising to reach a wider audience. We also monitor social media conversations to identify trends and engage with followers.
We use a data-driven approach to social media marketing, tracking key performance indicators (KPIs) such as reach, engagement, and conversions. Our team uses advanced analytics tools to measure the effectiveness of social media campaigns and provide actionable insights to clients.
Find out more about this award winning PR company by calling: