Technology vendors face a unique set of challenges that extend beyond merely selling products or services. From fostering thought leadership to ensuring credibility in a saturated market, a robust B2B technology PR strategy is no longer optional—it's essential.
The world is being driven by a staggering range of new technologies from artificial intelligence to driverless cars and implants that help blind people to see. Yet so many technology innovations die because they run out of funding, before acquiring enough customers to break even, or because competitors reach feature parity before a brand has taken a foothold. Marketing is an essential tool to build and protect a market position before the competitors catch up. Hiring a good PR agency is an important first step.
At PR Agency One, our expertise in B2B technology is both deep and broad, spanning the sectors that are currently shaping and disrupting industries globally. Whether it's Cloud Computing solutions that power business operations, or Cybersecurity measures that safeguard critical data, we have successfully executed PR campaigns that resonate. Our team is proficient in emerging domains such as Artificial Intelligence and Machine Learning, where innovation is rapid and the stakes are high. We've also built considerable experience in Software as a Service (SaaS), the backbone of many modern businesses, along with the Internet of Things (IoT), which is revolutionising everything from manufacturing to healthcare.
Financial technology, or FinTech, is another sector where we've made significant strides, helping our clients navigate a landscape that's disrupting traditional financial institutions. We understand the growing importance of Data Analytics, as businesses increasingly rely on data-driven decision-making. The Telecommunications sector, especially with the advent of 5G technology, has been another focal point of our PR initiatives. And as e-commerce continues to dominate the retail scene, we offer solutions that help businesses optimise their online presence. Lastly, the rising HealthTech sector has gained immense focus, particularly in the light of global health challenges, and our campaigns here aim to elevate innovative solutions that are changing the face of healthcare. In summary, our capabilities are as diverse as the technology landscape itself, uniquely positioning us to deliver impactful PR campaigns across sectors.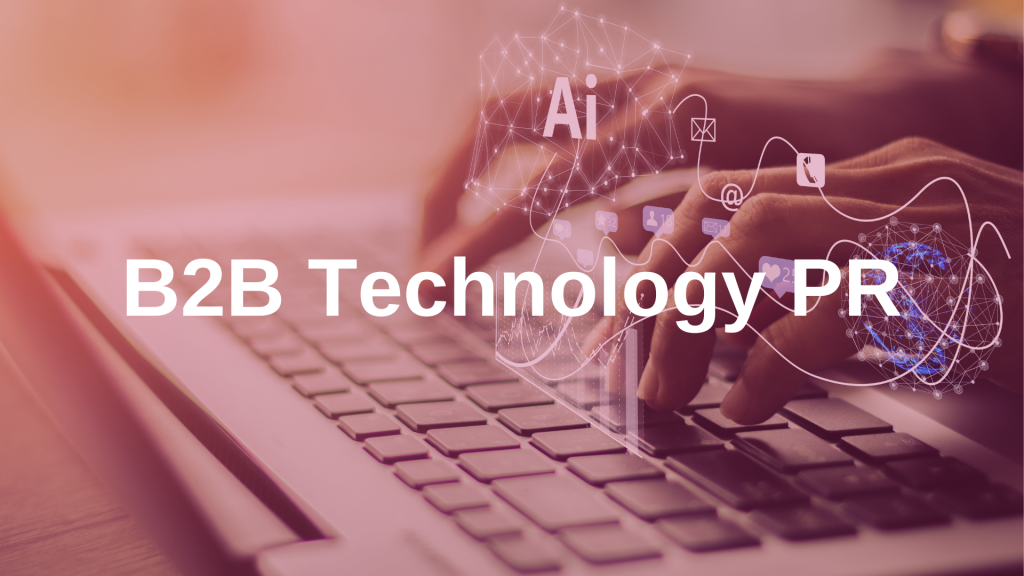 B2B Technology public relations
PR Agency One's award-winning B2B Technology team is trusted by global brands and digital start-ups with product launches, profile raising and brand awareness, and support with investor funding.
We work across a wide range of sectors, including, retail, education, charity, fintech and health. We understand your commercial objectives and create campaigns to help you get there using our in house measurement and reporting product OneEval.
Our expertise covers everything from hardware through to cutting-edge augmented reality, cloud computing, and digital learning platforms.
PR Agency One is at the forefront of the growing technology hubs across the UK including Manchester and Oxford, and in the FinTech sector.
In-house B2B Technology and Digital expertise
Our in-house B2B Tech PR and Digital teams leverage deep industry connections, including partnerships with top universities and key technology events. This ensures that we are not just spectators but active participants in the tech innovation landscape.
We possess a nuanced understanding of how technology businesses can effectively penetrate their target markets. Our bespoke PR strategies are designed to navigate the complexities of diverse sectors, ensuring your brand gains the prominence it deserves.
We understand they way technology businesses can sell into their chosen vertical sectors better than any other PR agency and will help raise the profile of your business no matter how challenging the brief.
Our Digital Lead Generation Team is proficient in mapping the customer journey, from the first interaction to the final sale. We offer full CRM integration to track leads from marketing-qualified status to sales-qualified, ensuring a seamless transition and higher conversion rates
Why Choose PR Agency One?
Entrust your brand to PR Agency One, an award-winning agency with a proven track record in B2B technology. We excel in profile-raising, brand awareness, and securing investor funding. Our client testimonials speak volumes about our ability to meet commercial objectives and drive meaningful outcomes.
To benefit from our specialist B2B Technology PR knowledge, please call James Crawford on: