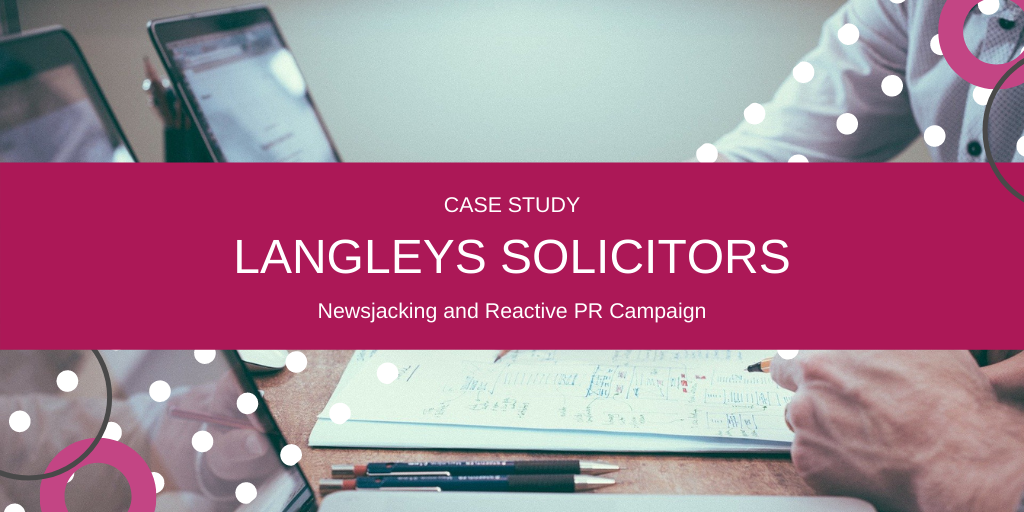 Who they are and what they wanted:
Langleys is a leading UK law firm providing a range of high quality, professional legal services in three key sectors: business, insurance and personal. The York and Lincoln-based solicitors firm tasked PR Agency One with placing it at the forefront of the news agenda, as the true scale and effects of the global pandemic were becoming felt.
Newsjacking: what we did:
In a sentence: our legal PR team hijacked the news agenda with engaging takes on current affairs.
We created a reactive PR and newsjacking strategy which would allow us to capitalise on the quick moving news agenda, to put Langleys front of mind when thinking about a business' legal position in relation to corporate, commercial and employment law.
This involved creating a bank of interesting comments, rooted in law and how it could be applied to the current situation, for the general public and business owners and directors of the UK. The aim was to generate conversation and engagement around employment law, commercial law and family law topics, whilst also boosting the firm's brand awareness both nationally and in the regions it predominantly serves.
We worked with members of each legal practice to establish the latest Government guidelines and how they should be applied to businesses and the British public. As well as comment and thought-leadership, we produced practical advice and tips for businesses to add value and insight to the current situation – something which was lacking from the Government's communications.
We created media biographies for key spokespeople within the business which included their achievements and credentials, and a show reel of their previous broadcast media placements. This gives producers, researchers and journalists a better idea of what to expect from our client when they appear on their programme.
We brainstormed a number of attention-grabbing questions that business owners and consumers wanted answering, and used Langleys' legal insight to help us answer them. This included: 'Do I have to work from home?', 'Can my boss sack me for refusing to work at home?', 'Can I cancel an employee's foreign holiday plans?', and 'Can my landlord evict me?'.
These striking headlines serve a number of purposes – as email headlines to journalists, as news articles for readers, and as genuine search queries users will type into a search engine to find more information.
In exchange for this insight, our media relations team secured brand mentions for the business, and boosted the personal profile and reputation of key company spokespeople, as well as securing important follow links from high authority news websites back to the Langleys website.
Newsjacking coverage highlights:
Within hours of implementing our strategy and issuing the first comment we secured placement for the head of employment law, at Langleys, on BBC News, with written articles also appearing in The Times, Daily Telegraph, Mail Online, Daily Express, Daily Mirror, City AM, MSN UK, Huff Post, People Management and Management Today – not forgetting key regional titles for the business.
We set-up TV and radio broadcast opportunities, via Zoom, with BBC News World Service, LBC News, talkRadio, Jazz FM Business Briefing, BBC Radio York and BBC Radio Lincolnshire. We worked closely with company spokespeople to make sure they were briefed on questions they may be asked and various alternative angles to the story.
Reactive PR campaign results:
In the days and weeks that followed the UK being put into tighter restrictions and lockdown measures, we secured 130 pieces of coverage, 28 of which were in national broadcast channels, national newspapers and their websites.
Combined reach: 1,512,084,021
100% brand mention inclusion
30 follow links with a domain authority of 30+
Increase in employment law enquiries
To find out more about how we create and implement reactive PR campaigns, get in touch using our contact page, or call us direct on: