Thought leadership is a tactic that can be used to build credibility for an individual and the brand or business they are associated with.
What is the definition of a thought leader?
The definition of a thought leader is someone that is an expert on a particular subject whose ideas and opinions influence others, particularly in business. As a notable expert in a specific company or industry, a thought leader is someone who offers guidance and insight to those in their field.
What makes a good thought leader?
The main goal of thought leadership is to become recognised as an expert and used as a go-to resource in a specific sector.
Good thought leaders draw on the past, analyse the present and illuminate the future to create a comprehensive, unique and impactful view of their area of expertise. A good thought leader will often identify challenges or opportunities for their target audience and provide insights to help. It is all about sharing the unique perspectives, experiences and resources that an individual has that informs the philosophy of their brand.
Below are four tips on how to establish yourself as a thought leader:
Add clarity to your area of expertise
Remove yourself your immediate business agenda and talk about broader industry challenges and opportunities.
Continue to learn about the sector you operate in
Listen to all opinions before making your own
How to create compelling thought leadership content
It might sound obvious, but the most important thing to remember when producing a thought leadership strategy is to be original. The whole concept of thought leadership is about building authenticity for you and your brand, so it's important to say something that will make people stop and listen.
To be accepted as a thought leader and subject matter expert, it is essential to focus on industry topics and issues that you know best. Write what you are passionate about; a subject that inspires you and feels right for your business.
It is equally important to choose a subject that is topical. To successfully share what you stand for, find what your audience wants to hear and express your idea in a way your audience cares about. What is the point in sharing your views on a topic that no one cares about and won't read? It's always worth monitoring the news agenda on a daily basis to gauge which topics will be of interest to the people in your field.
This is where the skill of a great communicator, such as a PR consultant or PR agency comes in. They use a mixture of tactics to monitor and identify these subjects. These techiques range from using social media, search listening tools and other forms of research to identify emerging trends through, to simply being well informed about current affairs.
When it comes to the actual writing of thought leadership content, longer form in-depth content with evidence and examples is the way to go. To support your finding and solutions, develop a data-driven content strategy that inspires relevance and credibility. Relevant and interesting data, combined with authentic storytelling, will hook the reader and bring your thought leadership content to life.
Where can thought leadership content be published?
It is worth remembering that thought leadership content doesn't just have to come in the form of earned media coverage. You can reach new audiences and build on your thought leadership content through publishing on various platforms such as social media and blogs.
No matter which platform you decide to publish your thought leadership content on, the same rules still apply. Be authentic, be topical and be passionate.
Earned media coverage
Having your words published by a reputable media outlet increases the credibility of what you are saying and is valuable in building up your brand's backlink profile to support your SEO strategy (see our other posts on digital PR). At PR Agency One, we work with many of our clients on their thought leadership strategy and secure media placements with highly reputable national and trade titles.
We have worked with our supply chain and logistics client, SCALA, on various thought leadership campaigns. We have placed SCALA's Managing Director, John Perry, as a thought leader in the field – securing opportunities for him to author thought leadership articles and comment on relevant topics related to the supply chain and logistics landscape.
Below is a great example of a compelling thought leadership article that John has authored – he is using his platform to advise and educate on a subject he feels strongly about, which subsequently places SCALA as an expert voice in the supply chain and logistics field. You can read the full article on Supply Chain Digital here.
Using social media for thought leadership amplification
From earned to shared media; social media happens to be one of the most effective mediums when it comes to demonstrating thought leadership because it serves as the direct channel between a person and their audience, enabling the initiation of conversations and offering valuable insights.
An example of someone who utilises their social media platform to share thought leadership content is Ginni Rometty, ex-chairman and CEO of IBM. Although Ginni stepped down as CEO in 2020, she continues to comment on topics she is passionate about such as female empowerment, effective leadership and disruptive tech.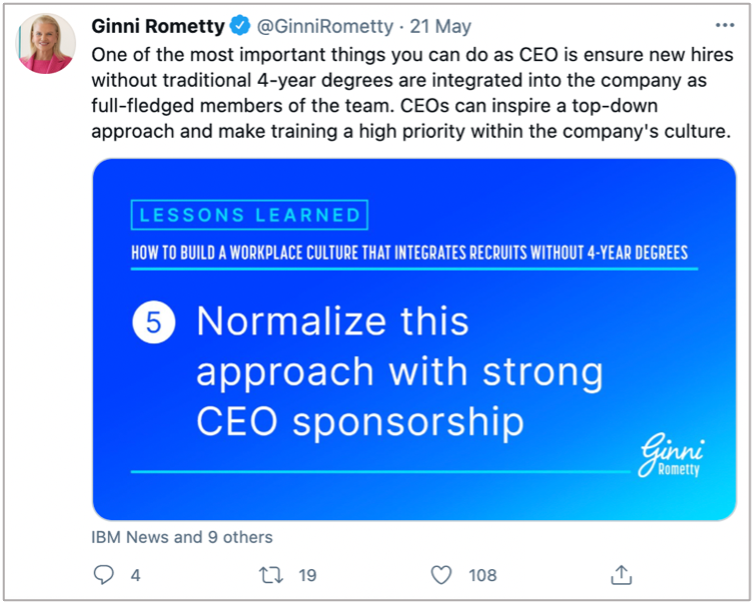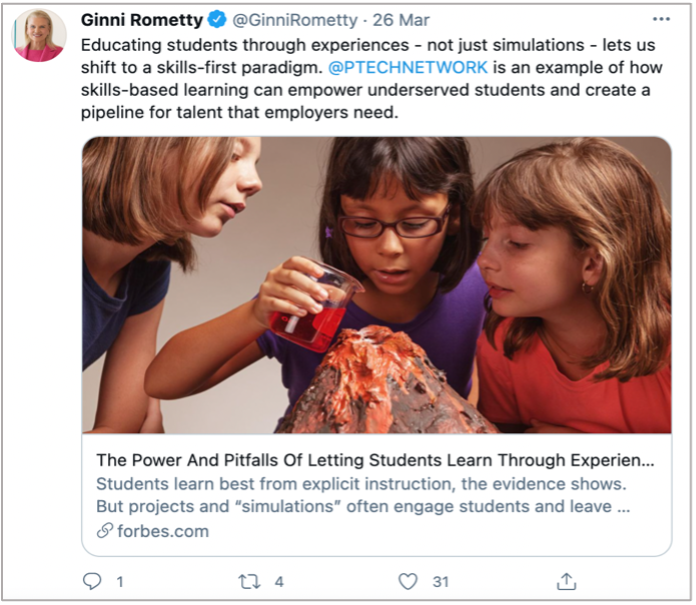 Thought leadership and blogging
Bill Gates, Co-Founder of Microsoft, does not just use his platform to promote and sell his products – he uses it to educate and inform. He has created his own blog where he expresses his own views and opinions on topical subjects in the form of blog posts. Owned media such as company blogs provide rich and deep opportunities to expand on your thought leadership content in earned and shared media.
For example, Gates is a huge advocate of the new plans to slash carbon emissions in half by 2035, and he has written a thought leadership blog post on how he thinks this can be achieved. His reactivity, proactivity and evident passion for this subject will make people stop and listen to what he has to say – that's what thought leadership is all about.
Which companies should have a thought leadership strategy in place?
Not just anyone can be a thought leader. Thought leadership takes a certain level of commitment and a willingness to go against the status quo or the way things have always been done. It is a title that you do not claim yourself, rather it is given to you by your target audience because you have earned it.
Some might assume that thought leadership is something that only established companies with years of experience under their belt can do, but it is actually an effective strategy for start-ups too. In the absence of years of trading, thought leadership can be a value proposition in itself, catapulting new businesses into the limelight by offering a fresh, unique perspective.
It's also worth noting that it is not necessarily the CEO of a company that should be the figurehead; it is about who is best equipped to take on a thought leadership role and demand the attention of the audience.
With a bigger business, there could be more than one thought leader covering different areas of expertise. Tapping into the enthusiasm of employees is an effective strategy, as it helps to build their own profiles and careers at the same time as using their knowledge and passion to raise the profile of the business.
How does thought leadership tie in with connected leadership?
Connected Leadership is a new way of leading organisations. It marks a pronounced shift from hierarchical command and control to leading through influence and engagement. Connected leaders lead through influence and engagement, creating a more agile and higher-performing business.
The five factors of connected leadership are:
Devolved decision making
Collaborative achievement
Agility
Purpose and development
Authenticity.
Clearly an organisation that is providing thought leadership content via its leadership team is communicating its purpose and direction, but also offers authenticity by being visible and available via owned, shared and earned media. To learn more about what connected leadership is and why it matters to your corporate PR strategy, read our blog post.
How can thought leadership content help build brand reputation?
Done right, thought leadership content is the single most brand-differentiating content marketing asset a company can produce.
The people or businesses that lead with regular advice, useful information and provide helpful tips gain more traffic and more business than those that do not. Research has shown the benefits of thought leadership content for communicating with B2B audiences:
89% of decision-makers reported that thought leadership was effective in enhancing their perceptions of an organisation.
59% of decision-makers used thought leadership to vet a company's capabilities.
49% of decision-makers said thought leadership influenced their purchasing decisions.
By communicating their opinions, thought leaders and the brand they are associated with become part of the conversation. It increases the visibility of specialised expertise and accelerates market influence to accomplish marketing goals, such as building brand strength or generating new business.
Over time, potential clients and members of the industry will associate the thought leader's brand with insight and authority. With their brand top of mind, people are far more likely to consider their organisation when selecting a business partner. If you are interested in finding out how we can help with your thought leadership strategy alongside wider PR activity, call us today on:
---
Posted
by