The most important policy we have at PR Agency One is to create an open and trusting management style and atmosphere and run our business as ethically as possible, both internally and externally
About our people
We want to create an environment where our people can learn, grow and thrive. PR agencies can be high pressured environments where certain negative management traits and group cultures can take hold. A control freak manager might be able to make account executives to jump through hoops of fire but sooner or later they burn out and leave. Instead we promote a trusting environment based on our company values of respect, accountability, drive and vision.
Our PR Agency One Mission:
To deliver world class creative and strategic communications which are underpinned by quality measurement processes that are industry leading.
Our PR Agency One vision:
Our vision is to become a £3million turnover PR agency which is well known and respected for delivering measurable excellence.
PR Agency One values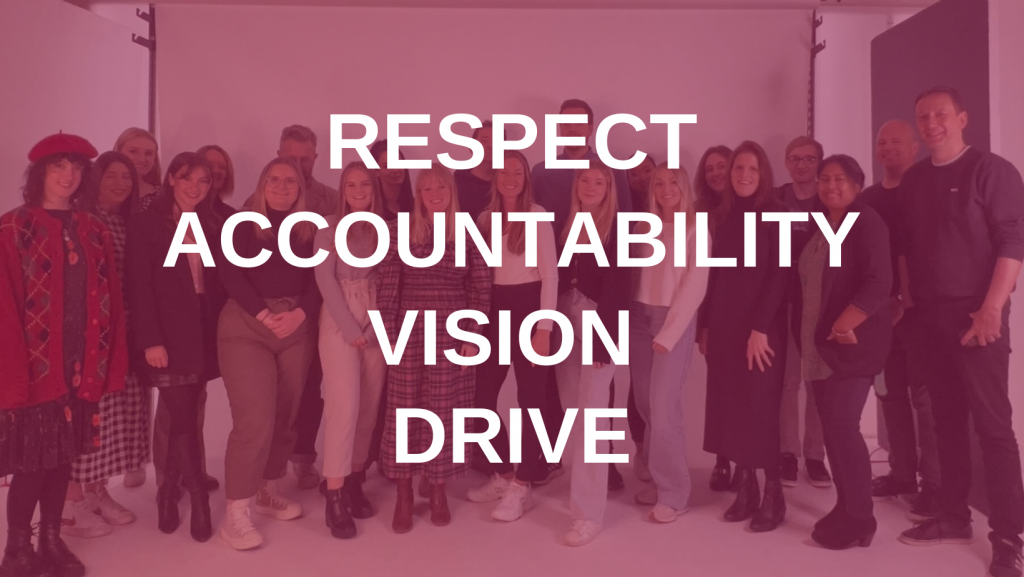 Respect: upwards and downwards respect for everyone and everything: the industries we operate in, consumers, democracy, our team, clients and its goals. Everyone is equal as a person no matter what their pay grade. And while most people in our company are managed by someone there is no one whose personal values are greater than someone else's.
Accountability: everybody is accountable. Each team member has their own personal objectives. Each person is trusted to do a great job for clients and for the company. We strive to make PR Agency One a fun, and safe place to express ourselves professionally and personally. We are also accountable to wider society, its values and democracy – disinformation has no place in our campaigns.
Drive: we all have and demonstrate the drive to succeed. Nothing is too much effort.
Vision: the company was born out of a desire to do things differently and that requires vision. While some people have more commercial or interpersonal vision than others there is no reason that everyone can't buy into the vision of others
It is all well and good having corporate vision and values to nurture resilience but a company needs the management team to implement them, throughout the company.
We do this by training managers to consider the mental wellbeing of staff and make sure that they feel free to flourish without fear of bullying or any negative management practices.
We provide job security and try to avoid regular large-scale restructuring or change, this means scheduling work and being on top of time and hours. If we need to implement a new way of doing things then change is followed by lots of communication and training.
Who we won't work with
We work with all sorts of businesses with a wide range of reputations. Sometimes with businesses that are in crisis or whose reputation is damaged and needs repairing. We do this by working with businesses to make genuine change, or to communicate how a business has changed, is trying to change or has been misconstrued. This means we will work with some businesses that many might think of as unethical but only if we feel we are making a change for the better and not damaging our own company values. There are clear red lines. We won't work with oppressive regimes, businesses wholly owned by oppressive regimes or tobacco companies. There is evidence of how we handled these issues as covered in PR Week here.
Disinformation and manipulation
Our agency is committed to preventing disinformation which is damaging trust and causing the drive towards a post-society, post-democracy, post-capitalist world. The public relations industry is in part responsible for the slide towards a post-truth society. We are committed to the progressive and ethical use of data, analytics and measurement to create a better world.