Digital PR Case Study: Auto Trader – Eau de New Car
Who they are and what they wanted:
Auto Trader is the UK's largest digital marketplace for new and used cars. The automotive brand tasked PR Agency One with creating an innovative PR stunt to drive talkability and engagement around the brand, whilst also delivering high authority follow links back to build visibility for the New Cars section of the Auto Trader website.
What we did:
In a sentence: we bottled the scent of a new car.
We commissioned a perfume supplier to create us a limited edition run of a bespoke fragrance replicating the scent of a new car – the scent of success – in a tongue-in-cheek stunt to spoof the perfume industry.
The aim of the product launch was to get people talking about the brand whilst driving links back to the website to improve SEO performance. With just 10 bottles up for grabs – and at £175 a pop(!) – we certainly succeeded in this aim, creating debate as to whether or not the product was genuine and whether it was even possible to buy it.
Blending notes of fine leathers and hard wax from the most premium of vehicles, each 50ml bottle of perfume culminated in a finish of musk and carpeted aroma.
Naturally, a scent this sophisticated needed an equally sophisticated face – and who better than Auto Trader's own resident celebrity, presenter and car enthusiast, Rory Reid, to star in the brand's first ever perfume advert?
Whilst Rory was busy delivering an Oscar-worthy performance for the cameras, Auto Trader's in-house team was at work creating an extravagant landing page to both host the perfume ad and retail it. This landing page provided us with a link to refer to in our media outreach, not only proving the perfume was real, but also providing the press with a source to link back to – to help deliver on our digital PR strategy and secure those all important follow links.

To support the product launch we commissioned research into the UK's attitude toward various scents which formed the backbone of our lead news story, proving that the smell of a new car is in fact the scent Brits most associate with the smell of success. To accompany this we produced trade and consumer releases announcing the product launch.
We also distributed media mailers to a select list of journalists and influencers, to generate further awareness, backlinks and general online buzz around the story.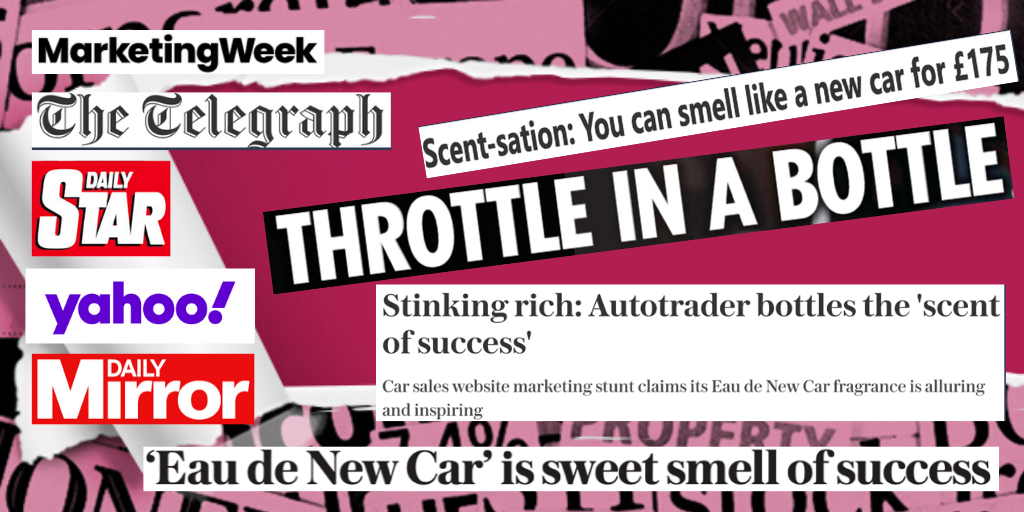 Not forgetting broadcast, we worked closely with Auto Trader's broadcast agency to execute a morning of back to back interviews with scent specialist, Lizzie Ostrom, A.K.A. Odette Toilette, to provide commentary on the nation's favourite scents and why we love the smell of a new car.
For additional promotion, scented billboards that dispense puffs of the scent whilst displaying the perfume advert were erected in Manchester's Arnadale centre and video content was captured of members of the public sniffing the boards, to share across socials. The campaign was boosted further with ad spend on YouTube.
Campaign results:
Campaign results:
In just 8-days of sell in the campaign generated 394 links from 169 referring domains. 146 of these were generated by PR.
Combined circulation: 1,935,848,665
85% branded image inclusion
89% key message penetration
2,846,186 impressions across Facebook, Instagram and twitter
2,050,489 video views across socials
Commercial outcomes:
Unique pageviews for the relevant New Car page increased by 23%.
New Car leads increased by 173% and ad views increased by 8.5%.
The landing page had 60,000+ hits overall, of which 53,000 were unique
To find out more about how we create and implement digital PR campaigns, get in touch using our contact page, or call us direct on 0161 951 5399.