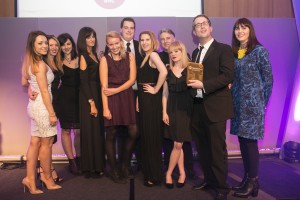 Here Giles Fraser of integrated communications agency Brands2Life explains why we were named Small PR Agency of the Year at the PR Moment Awards 2015.
The team were ecstatic at the win and at time of writing were still recovering from the celebrations! We'd like to thank Ben Smith, Daney Parker, Giles Fraser and all our other PR chums for such a great night out.
More information on the shortlist and the other winners is available and more photos of from the evening are available on the Don't Panic Flickr account.
Tags:
PR Moment Awards
,
Small Agency of the Year
Posted
by