PR Agency One help bring 'The Notorious' Conor McGregor to Manchester.
When the name Conor McGregor popped up in the office, it wasn't a question of what does the project involve? But really, when can we start? The two-weight UFC champion was set to give a world exclusive interview in Manchester and we couldn't wait to get involved.
The company behind the event,  An Experience With, is a leading event management company that bring A-list celebrity interviews to life, with exclusive, immersive experiences for fans. Not ones to do things by halves, they have previously hosted events with Mike Tyson, Sylvester Stallone, Al Pacino, Jean-Claude Van Damme and Arnold Schwarzenegger.
For one night only, the MMA Superstar and all-round sporting legend would be hosting a black-tie dinner at Manchester's EventCity in front of 5,000 fans and chatting to prolific MMA journalist, Ariel Helwani about his career, pending fatherhood and of course, Floyd Mayweather.
To give an indication of the event's prestige, tickets were already sold out before we were even asked to be involved. The challenge; getting the word out to the most prolific and experienced sports journalists in the UK and raise awareness of the event's unique digital offering.
Joined by some of the UK's most reputable sports journalists, the evening was nothing short of notorious. Arriving in style (a Rolls Royce Phantom to be exact), McGregor didn't disappoint. Spilling the beans on his rise to fame, revealing the sex of his expectant child and taking on Mayweather in 2017, the evening was full of headlines. A personal favourite was 'King of Manchester' will fight Mayweather, Manchester Evening News – he is sporting royalty after all.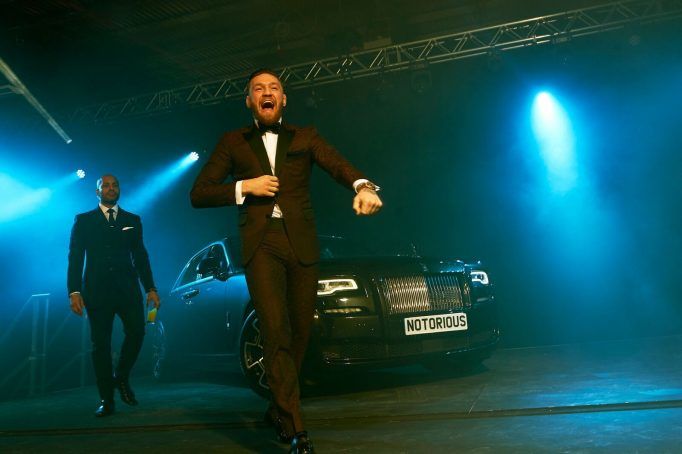 Headlines were a plenty, having secured sheets of national coverage in the Daily Star, the Irish Mirror, ITV News, Daily Mirror, The Sun and even across the pond on Fox Sports, one of the biggest sporting publications in the US, not to mention a realm of MMA media. Closer to home, and just as importantly, we secured fantastic coverage with our friends at the Manchester Evening News who are working on bringing more MMA news to the city as its popularity continues to grow.
Of course, not everyone could join the big man himself as McGregor's fan base spans across the globe. This is where the Pay Per View (PPV) offering came in. A dedicated TV channel that enabled fans from around the world to tune into the spectacle.
Proclaiming he was 'almost humbled' by the turnout, it was clear that underneath the superstar's confident bravado, the Irishman is exceptionally grateful for his fame and fortune which he puts down to the 'power of visualisation'.
Admittedly there are minimal similarities between a PR agency in the heart of Chorlton and an MMA Megastar but there is a lot we can learn from the man. He is a PR pro.  No pun intended but this project really has been an experience and we can't wait to see what An Experience With does next.
We end January on a high and so it's fighting talk for PR Agency One. In the final words of An Experience With Conor McGregor… '2017 we're coming for you!'
Posted
by