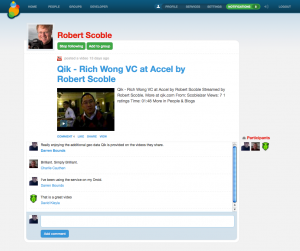 Techcrunch made an interesting announcement today about Cliqset.
I'm loving Cliqset (http://cliqset.com/) and want to give it more love. I think if a developer creates a good client for it, (like Tweetdeck) then I could use it more and more and more. Without a client I think it is pretty damn good too, so give it a whirl.
The Cliqset Marketer @rockinrobyn is a lovely helpful sort too. I recommend you follow her.
In short like the way you can:
Discover a new blog: By clicking on the home page blog icon, Cliqset will filter your activity stream to render a blog-only view. From there, you can easily browse until you find interesting content
Follow blogs: Integrating a blog platform with Cliqset allows you to share posts across selected social networks. To set this up, go to the Services page in Cliqset and activate whichever blogging platform you (or selected blogger) use, including WordPress, Tumblr, Posterous, Blogger, LiveJournal, and Xanga. Enter the blog URL or add the RSS/Atom feeds of the blog, and check the "Share my blog posts on Cliqset" box. Then watch as your blog content rolls through your home page activity stream, as we automatically start pulling your feed.
Share a post: To share an interesting post, click on the share button and choose the other communities with which you would like to share the content. Click the Share button, and the post will be delivered in real-time
Discuss: After you've wired up your blog to Cliqset, you can engage readers in a real-time, dynamic conversation about your ideas and opinions. On Cliqset, your blog post will have its own unique URL where readers can "Like" or "Comment" on your post to interact with you, the author. And of course, the process is the same for starting a discussion around a blog you've discovered
I want to give it more love. Spend some time with it. Make it my own. But as I have just started at http://www.citypress.co.uk, I am time poor. But Cliqset, I promise that at somepoint soon I shall show you some tender loving care and use you more as I think you have potential.
I also think VCs should give them more funding as there is definitely a commercial proposition here.
Tags:
cliqset
,
friendfeed
,
realtime
,
rokinrobyn
,
sharing
,
Social Media
,
Techcrunch
Posted
by