When looking for a job in public relations, like any job application, you must give enough information to your future boss that demonstrates your skills, qualifications, and hobbies, and interests. While public relations is a varied profession, many graduates who apply to an agency have very little understanding of what corporate or B2B PR roles comprise. Most individuals understand what consumer PR is as they are exposed to consumer marketing through the media, yet, there are huge opportunities with corporate PR that can be revealed through some good research and looking in the right places.
PR is all about managing reputation. When you begin your applications for corporate PR, demonstrating your awareness of this, and how you understand the market, is paramount.
Below are four top tips for securing your dream job in corporate PR, whether you are a new graduate looking to start a career or are looking to change professions. There are so many opportunities for a career in corporate PR and these tips focus on how you can boost your CV, make the most of all of your experience, and be best prepared for the interview process.
Tip 1: Demonstrate your interest in the corporate world.
If you are applying for a B2B position, it is important to outline in your cover letter, what aspects interest you specifically about the sector. For consumer work, you may tend to comment on brand campaigns you liked or products that you saw and admire but, for b2b work, this must be approached slightly differently.
For example, being able to identify a business crisis and describing your own thoughts on the issues raised, could be a good start. A good example is when Rolls Royce's CEO casually announced job cuts live on the BBC. In this interview, he announced redundancies whilst looking disinterested with a smirk on his face. Using this as an example to outline what you believe the consequences of this broadcast could mean for the company (i.e. consumers and partners retreating from the business as well as disgruntled employees), you are showing your new boss that you are aware of how reputation can affect a business's decisions and actions.
Furthermore, discussing how you stay up-to-date with the news agenda is paramount within your cover letter or CV. Corporate PR involves you being an expert in every aspect of your clients' industry. If you are working on a fitness campaign, it is your job to know what the business's competitors are doing. Similarly, you should always have a strong idea around what the industry is currently talking about (for example, the fitness industry is now focused on how to reopen gyms and what will change in the ways we work out) and being able to share these key bits of information will do wonders to demonstrate your awareness.
When I first applied for my job as a Graduate Account Executive at PR Agency One, I talked about my position as the Deputy Editor of my university's newspaper within the sports section. In my cover letter, I talked about how, as a part of this role, keeping up-to-date with sporting developments and looking out for new stories in the area, meant that I had to read local and national papers every week. By listing some of these titles I was able to show my new employer that I not only understood the industry but had taken practical steps to keep myself informed and was following the news agenda closely.
Tip 2: Employers care about your hobbies – so use them!
I think one of the hardest things about writing CVs and cover letters, is keeping to word count and being concise while conveying what your key competencies are… I had a constant fear that I was writing too much useless information or including things that weren't directly reflective of my suitability for the industry.
However, this is a huge misconception.
Most employers will value your extra-curricular interests with similar gravity as your qualifications or applicable experience. For example, in my own cover letter, I listed some of my hobbies such as swimming, and how I'd spent the last few years swimming teaching young kids. Whilst this does not directly show my suitability to writing press releases, it did show that I could lead a group and demonstrated my ability to communicate with parents on how to support their child's development. These sentences inadvertently highlighted traits of responsibility and leadership. This could be the reason your employer hires you over a candidate who has left this type of detail absent.
This is especially true if your hobby demonstrates that you are a tenacious, adaptable team player who gets stuck in. While wallflowers can make it in PR and you don't need to be an extrovert, you'll need to be a confident communicator.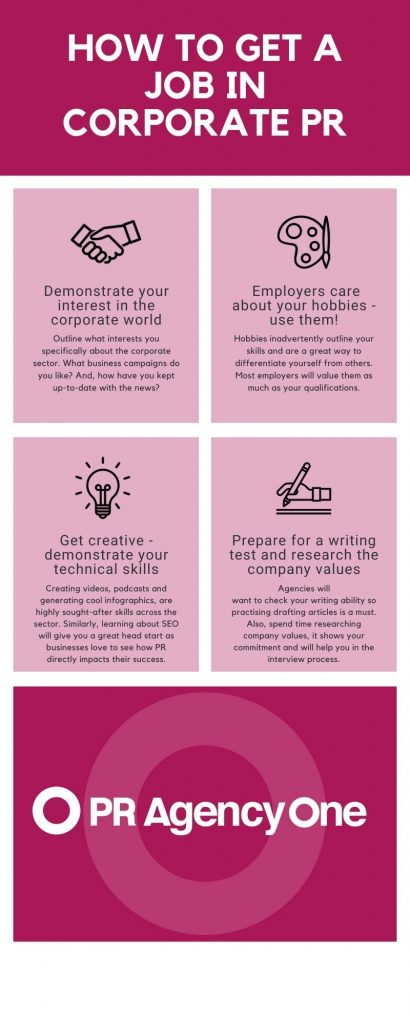 Tip 3: Get creative – demonstrate your technical skills
Agencies like ours are leading the digital transformation of the industry. PR work is no longer focused on solely writing press copy and calling up journalists, but creating videos, podcasts, and generating cool infographics, are highly sought-after skills. Similarly, clients are becoming increasingly interested in analytics and SEO to see directly how PR activity correlates with their businesses' success. Having prior experience of some of these processes and including them within your CV will be a great way to show you are ahead of the game.
Whilst I didn't directly address this in my own CV eight months ago, I know it would have been valued highly in the agency I am now with. As we spend much of our time trying to attract the attention of journalists on behalf of our clients, videos are becoming a new and exciting way to differentiate our news stories. If you do have video editing experience or even proficiencies in Photoshop, do not miss this out!
Alternatively, if you are actively looking for a job in PR or are on furlough and wanting to enter the industry, use this time to complete some of the many, online, and free courses to boost your technical wizardry. By doing this, you are not only showing that you have used your time productively, but you are adding new, and required skills to the industry – ones that can't be ignored in the direction the industry is moving in.
Tip 4: Prepare for the writing test and get clued up on the companies' vision
Many agencies will want to check your writing ability before they give you an interview. Even if they don't, as a fledgling PR operator, you'll soon be spending a lot of your time writing. Getting yourself clued up on how to write a press release will be a good start. Try finding a research report or a few statistics on a chosen topic online and plan how you would formulate this into a full article. Picking out a key fact that interests you and building a story around this, and maybe drafting a quote from a business member to include, will show you understand how releases work.
During this preparation time, it is also worth spending a considerable amount of time exploring the company's website and understanding the business's vision and values. At PR Agency One, we have our very own company handbook that outlines these clearly and it's a great way for new candidates to learn about the business they could soon be a part of. Not only will researching this stand you in good stead during the interview process but often good corporate PR is all about bringing a company's vision, values, and purpose to life. You will immediately be ahead of the game and demonstrate your real interest in being a part of the business.
I hope these tips are helpful to any graduates or those looking to start a career in corporate PR. Whilst it is a difficult time for employers as well as those who are currently job hunting, using this time as best as possible, enhancing your own skills, and getting your hands on any experience possible, will help you secure your dream job in the corporate world of public relations.
If you're interested in a career in PR, fill out this form, explaining why you would be a great match here at PR Agency One.
Posted
by