One of the biggest challenges for most social media managers is sourcing images for their campaigns. But when it comes to sourcing images for creative PR campaigns, do PRs and social media managers know how to find, use and attribute Creative Commons images correctly? It might be tempting to pluck an image off the Internet at random, but this should never be done. In fact, even searching on Google for images 'labelled for reuse' can cause you a major headache if the image hasn't been accredited properly; the same goes for sourcing images from Flickr.
What are creative commons images?
A Creative Commons image means that the creator of the image (photographer or designer) has given their permission for people to share, use or build on the image they have created.
Why should you use creative commons images?
Creative Commons images are free to use, so they are great to use on blogs and other digital content. However, most are used and labelled incorrectly because it can be difficult to work out exactly what you can do with particular images, as there are six types of licenses. So you need to be sure it is licensed for the particular use you want.
Attribution of Creative Commons images
When using a creative commons image, the most important thing is to ensure it is attributed to the original author, and that this is done correctly. Some Creative Commons images can be used commercially and some altered, whilst others can't. This is why it is very important that you check the license agreement before you use. Flickr is a great way to search for Creative Commons images, as you can search for word combinations e.g. Summer Party, and you can also search by media type and date. Most importantly, when you search for your word term on the top right, click on Advanced Search, scroll to the bottom of the page and tick the box, which allows you to only search for Creative Commons images, along with searching for commercial use and modification.
If you are putting a Creative Commons image on a client's blog, then the safest option to go with is the commercial license (CC). When you search in advanced search, make sure you tick "find content to be used commercially" as per the image below.
Once you have found an image you want to use, click on 'Some rights reserved' underneath the image to check the license. There is a great Infographic on Foter, which explains the entire bank of license types for Creative Commons images and how to use them properly, including attribution. What you are ideally looking for is an image that can be used commercially, as this is the safest option. The correct way to attribute a Creative Commons image is:
– keep intact any copyright notices
– credit the author, licensor and/or other parties (such as a wiki or journal) in the manner they specify;
– include the title of the Work
– include the URL for the work
The following is an example of the correct way to attribute:
– "Creative Commons" by Kalexanderson is licensed under CC BY-SA 2.0)
– Title? "Creative Commons"
– Author? "Kalexanderson" – linked to her profile page
– Source? "Creative Commons" Linked to original Flickr page
– License? "CC BY-SA 2.0"  – linked to license deed
When you click on the above license you can see it is listed as an Attribution-ShareAlike 2.0 Generic license type. If you read on you can see the license type allows you to share and adapt for any purpose, even commercially – as long as the image is attributed correctly. This is perfectly acceptable to use on this blog post – see below.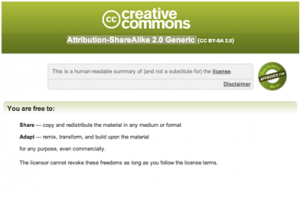 Google Search
Google Image Search can also be used to search for Creative Commons images. However be careful – as even though you follow the guidelines, not every image that Google throws up will be free to use so again it is very important you check the licensing. At the top of the page you need to search for images that are 'labelled for reuse' you can also filter your search by size, colour and date.
Once you have searched for your image under labelled for reuse, click on the image you want and then click through to 'visit page'. From here you can check the license agreement. For example – the following 'Creative Commons' search image is listed on Google as labelled for reuse.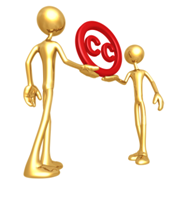 "Linkware Freebie Image" by Lumaxart is licensed under CC BY-SA 2.0 When you click through to 'visit page' you are taken to this page, where it tells you: The image is licensed under the Creative Commons Attribution-Share Alike 2.0 Generic. Details are also given of what you can and can't do with the license as per screen shot below.
Under summary, the author has also given permission to 'use however you like' as long as it is credited. If you click the "Source" link you are taken to the original image source, which is Flickr and you can credit as normal.
Therefore the attribution we have given to the image above is correct, as we have attributed: Title? "LuMaxArt Gold Guys With Creative Commons Symbol" Author? – "Lumaxart" linked to blog Source? "LuMaxArt Gold Guys With Creative Commons Symbol" linked to Flickr page License? "CC BY-SA 2.0"  linked to license deed As mentioned earlier, Google will throw up some images that cannot be used, so it is important to double-check the license using the steps above before use. If you are struggling to find the information you need, then it might be best to look for an alternative Creative Commons image, or go for a Public Domain image, as described below.
Public Domain Images
If you really don't want to run the gauntlet with the different types of image licenses for Creative Commons, then a public domain image from one of the sites listed below is your best option – as they can be used without permission or restrictions. Something to watch out for though when you are searching is that a lot of image sites will mix several types of images together (stock photos, public domain images and Creative Commons images), so it's important to always check the licensing before you use an image. It's also worth establishing beyond any doubt whether the image you want to use can be used for commercial projects without a fee and whether the image requires any attribution – as some will and some won't. You can see on this image from Pixabay that the image is clearly licensed as CC0 Public Domain. Free for commercial use/No attribution required.
Here are some helpful tips and sites to use: Morgue File – A great bank of stock images. Click on the "free photos" tab to identify the images that are free to use without attribution. Click on the image you like to get statistics on how often it has been downloaded too. Pixabay  – has lots of amazing free images and you can choose from vectors, drawings and photos. There is no requirement for attribution. Click on an image to view a link to the terms of use and license. EveryStockPhoto – Click 'Advanced Search' and untick 'Flickr' & 'PhotoXpress'. All images are then safe except for some from stock.xchng (see below) stock.xchng – Most images are safe, but always check 'View image license' because some require permission from the artist who uploaded it. Also, some images require an account – this is free to set up.
Things to remember:
– Check the terms of the licence for each photo – leave it if you're unsure
– Avoid anything with a copyright symbol, attribution or watermark
– Avoid pictures of children
– Avoid using identifiable images of people with negative stories
– Avoid logos and trademarks because they often have strict usage guidelines
– Avoid implying any endorsement or association with people/logos/trademarks
Photo Blogs
Another option for high quality and completely free images is using photography from Photo Blogs. This is generally when a photographer is releasing their photos as they shoot them. There is less choice here – with around 300 high-quality photos, but the quality is very good and you don't need to worry about attribution. Try Unsplash, New Old Stock and Move East. There are lots of great images on the Internet, many of which are completely safe to use on blogs and for other pieces of digital work for clients. However it is vitally important you double check the licensing for each image to make sure you don't get caught out using an image you shouldn't be. It is a bit of a legal minefield out there when it comes to images, but hopefully this blog helped to clarify some of this for you.
Tags:
Attribute
,
Creatie Commons
,
Digital content
,
Images
Posted
by