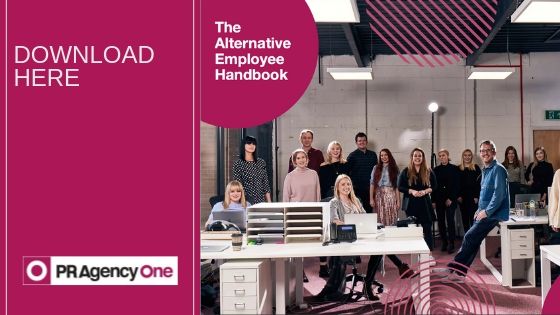 Today we are launching our new employer brand and to mark this occasion we have created a free to download Alternative Company Handbook, which lifts the lid on our company culture and what it is like to work at PR Agency One. You can download that here.
We've spent the last twelve months working hard on improving our employer brand. In collaboration with our staff we have created new company values and launched an employee survey to measure our performance against them.
We updated our industry leading benefits package and we have also improved our training and development programme which we think lines up with the best in the business.
We believe PR Agency One is a great place to work and develop your career and hopefully, through this new Alternative Company Handbook, you can see that too.
About the Alternative Company Handbook
The Alternative Company Handbook covers everything, from our company vision and values, diversity and inclusion policies to our employee benefits and much more. We'll tell you about Manchester, Chorlton and its amazing range of shops, cafes, bars and delis. There is a timeline to tell you about the last eight years and how they have flown by. There is so much more in there too so take a look and get in touch.
We value your feedback so do get in touch and let us know what you think.
Posted
by