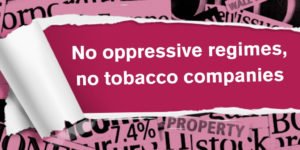 After careful consideration, last week we decided to go public with our decision not to work with a business which is wholly owned by what we feel meets our definition of an oppressive regime.
This decision was widely acclaimed as a positive thing and we are pleased that our position was well received.
We felt it was the right thing to do and our decision might put some pressure on the organisation and government to change and also create an incentive for others to follow suit.
The decision was covered here on PR Week and a few days after we went public with this, Brunei softened its position on the matter (although in our opinion there is still a lot more work it needs to do to improve its position on human rights).
For the record, we as a business and as a team of people have clear red lines.  We won't work with oppressive regimes, businesses wholly owned by oppressive regimes or tobacco companies.
We work with all sorts of businesses with a wide range of reputations. Sometimes with businesses that are in crisis or whose reputation is damaged and needs repairing. We do this by working with businesses to make genuine change, or to communicate how a business has changed, is trying to change or has been misconstrued. This means we will work with some businesses that some may think are unethical but only if we feel we are making a change for the better and not damaging our own company values.   Our vision and values are available here.
Tags:
pr
Posted
by