In 2010, the International Association for Measurement and Evaluation of Communication (AMEC) held a summit in Barcelona, where they aimed to set the first standardised framework for effective PR and communications measurement. The result of this was the Barcelona Principles, agreed on by PR practitioners from 33 different countries, which focus on the outcomes of campaigns, rather than output, recognise the value of social media, and denounce outdated AVE measurements.
As the communications industry has developed over time to fit a changing social and technological landscape, the Barcelona Principles have developed with it. In 2015 the original creators, plus other industry experts, met to redefine the principles so they focused more on what to do, instead of what not to do.
Now, five years on, AMEC has organised a third committee to re-evaluate the Barcelona Principles again and broaden and modernise the practices which have become slightly outdated in such a fast-moving industry. The Barcelona Principles 3.0 reflect a more rounded and holistic approach to PR measurement to incorporate the changing practice.
Why do the Barcelona Principles matter?
The Barcelona Principles outline basic standards of PR measurement and represent an international industry-wide consensus. They are a reliable guide for practitioners to refer to when measuring the success (or otherwise) of their campaigns, to consistently prove performance and highlight room for improvement.
The Barcelona Principles 3.0 were devised with the diversity of communications work in mind, so they are translatable for all kinds of practitioners working with all kinds of platforms, clients and goals. This means they can be foundational for measurement programmes across the world and standardise those programmes so they can be compared to one another.
What are the Barcelona Principles, and how have they changed?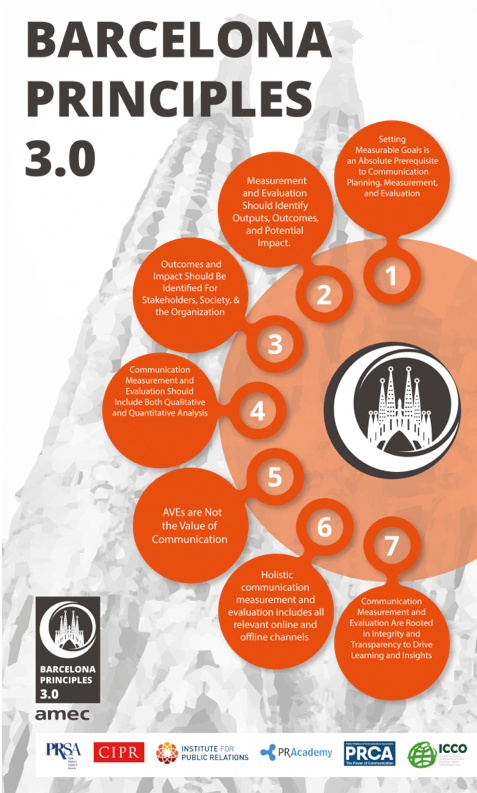 Principle One – Setting measurable goals is an absolute prerequisite to communication planning, measurement and evaluation
The phrase "absolute prerequisite" was added in the Barcelona Principles 3.0 to highlight how important it is to have measurable goals set before any planning or execution begins on a communications campaign.
Principle Two – Measurement and evaluation should identify outputs, outcomes, and potential impact
Over the decade, this principle has developed from saying that measuring outcomes is preferred to measuring outputs, to saying that measuring outcomes is preferential to only measuring outputs. Now the principle incorporates the values of measuring both outputs and outcomes, as well the overall potential impact of a campaign.
Principle Three – Outcomes and impact should be identified for stakeholders, society and the organisation
This principle now embraces a more holistic view of performance that goes beyond business metrics. Instead of looking at outcomes such as sale and revenue, it allows the principles to be more relevant to organisations and communications roles that are not profit driven, such as charities and NGOs.
Principle Four – Communication measurement and evaluation should include both qualitative and quantitative analysis
In the past, this principle focused on media measurements, but as time has gone on, media output has been become one of many important measurements. This is reflected in the updated principle and the focus of both qualitative and quantitative analysis allows practitioners to see the full value of their work – how messages are being received, believed and interpreted, rather than just seeing how many people are receiving the messages.
Principle Five – AVEs are not the value of communication
Since the outset, the Barcelona Principles have set to denounce the use of AVEs in measuring communications. The message has remained consistent and clear over the past decade.
Principle Six – Holistic communication measurement and evaluation includes all relevant online and offline media channels
In 2010, social media was recognised as a valuable tool for communications professionals, and that has only become truer since. The 2020 update reflects the evolution of social media and its communications capabilities, opportunities and influence and that, as a result, all relevant online and offline channels should be measured and evaluated equally.
Principle Seven – Communication measurement and evaluation are rooted in integrity and transparency to drive learning and insights
Whilst measurement is vital for proving performance, it should also be used to learn from by evaluating and applying insight back into campaign planning. This principle recognises the need to be transparent about the way measurement is conducted and any biases that may exist in the tools, methodologies or interpretations used and also highlights practitioners' responsibility to uphold any new regulations when it comes to data, such as GDPR.
The Barcelona Principles are a cross-globe effort and represent the foundations of outstanding communications measurements in this ever-changing industry. Throughout all, they aim to promote inclusion, impact and integrity within communications evaluation.
To find out more about the Barcelona Principles 3.0, visit AMEC's website here.
Posted
by