Music at it's finest…
PR Agency One was once again delighted to open its doors to 50 members of the public for its second intimate night of music in partnership with Sofar Sounds.
The global music organisation is famed for its 'mystery gigs' in which the audience has no idea who will be performing until they arrive on the night and has previously hosted international names such as Bastille, Hosier and James Bae. Sofar Sounds jumped at the chance to host a second evening at the agency following the success of their first event and the evening boasted another stellar line-up consisting of three acts from Manchester, Leeds and New York.
The makeshift 'stage' was defined by a string of fairy lights and set in front of PR Agency One's iconic Chorlton map mural illustrated by Dave Draws, which created a warm and homely ambiance for the concert.
The Acts
The evening's entertainment was kicked off by Leeds-based fourpiece, Green Gardens whose indie-pop stylings perfectly set the tone. Immediately capturing the audience's attention with thought provoking lyrics and catchy riffs accompanied by silky smooth guitar lines, the band created a warm and relaxed environment.
Second on the line-up was Natalie Hart, an aspiring vocalist all the way from Brooklyn, New York, who had given up her day job the year prior to pursue a career in music. Donning a brand new feather-trimmed coat purchased from Manchester's own indoor market Affleck's Palace earlier that day, Natalie gave a stunning performance of her own material drawing on pop and jazz influences before rounding off the set with a mashup of Gnarls Barkley and Kylie Minogue.
Closing the evening with a serenade of haunting vocals combined with folk guitar and a string trio was local artist Danny Addison, who categorises his music as "neoclassical folk". Performing stripped back versions of his own tunes, Danny took the audience on an immersive journey through an almost cinematic soundscape that soothed the ears of his listeners.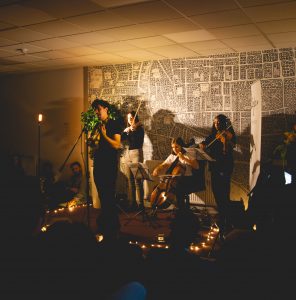 As usual, Sofar Sounds' choice of performers left PR Agency One staff and the public completely spellbound and as everyone collected their things and began to head home, the office was filled murmurings of appreciation.
Tags:
Chorlton
,
concert
,
event
,
gig
,
Manchester
,
music
,
musicians
,
perk
,
pr
,
secret gigs
,
sofar sounds
Posted
by